Once upon a time, in a land far, far away...

Rhodesians used to celebrate the establishment and founding of their nation over a 'long weekend' around the third week of July each year.
This was a time spent with friends and kindred spirits to revisit 'the olden days', light the fires, 'braai the wors', steaks and chops
and share a tale or two - over a beer (or two...) for a day or two!

With inspiration and efforts from 'Big Ian' Dixon and continuing in the spirit of those days, an extended community of rhodies,
families and friends have gathered 'somewhere in England' for more than 20 years now to keep this tradition alive and well in the UK.

'Madalas and piccanins' alike journeyed to Beechwood Park in Derby from as far afield as the USA & Canada, Holland, South Africa & Zimabawe,
and even some from Australia & New Zealand. In the true spirit of friendship, 'lost tribe' members also now entertain many local 'poms'
with no historic connection to the old country, but a genuine desire to meet with and share good times with this extended rhodie community.

July Braai 2101 trailer

Image quality may vary depending upon internet connection speed

Each year some time is set aside to quietly remember some of those who lost their lives in the bush war,
or who have passed on to higher fields of honour in the years since. This year it was the turn of the men who died
following the shooting down of the SAAF helicopter transporting servicemen during external action at Mapai on September 6th 1979.
The short service dedicated to the memory of 'Operation Uric' and Puma 164 forms part of events on Sunday afternoon.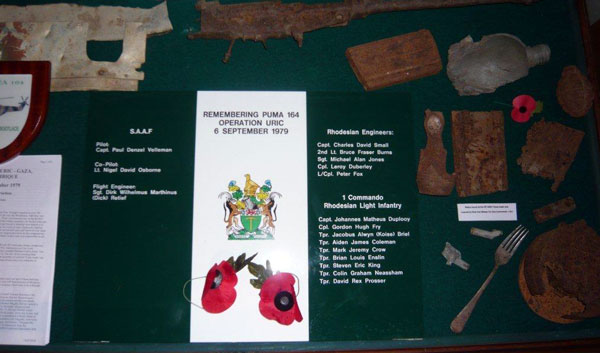 The plaque created to remember the names of these brave men is now part of a display at the Rhodesian Army Museum near Bedford.


More memories of Rhodesian days coming in future from Final Media...
Live recordings from Le Coq d'Or - for those who survived R&R nights at the Round Bar!
Good rocking tracks selected from memorable nights with Lincoln, New Omega Ltd and the Never B4 Band.


Selected performances from the last 'Troopie Shows' for RBC TV on the road in 1978.
Were you at any of the shows staged at Victoria Falls, Kariba, Umtali, Fort Victoria, Bulawayo, Gwelo or at 'Monos' in Salisbury?


Gems from the Final Sounds archive - the earliest known show recorded for RTV - 'The 730 Show' - in glorious black & white.


Brilliant performances on DVD and CD from international pianist and entertainer Peter Maxwell - at the Edward Hotel in Durban.